Clay Conference 2020 - 8-11 June 2020, Nancy, France. Due to COVID-19, this conference is postponed to 2021 (14-17 June 2021)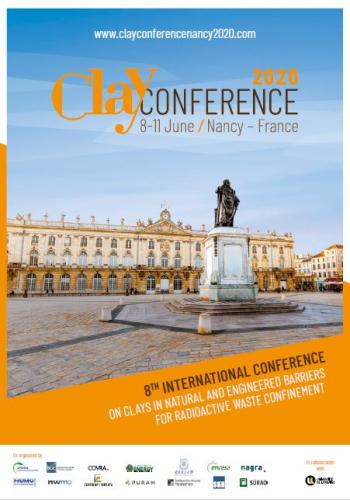 Due to COVID-2019, this conference is postponed to 2021 (14-17 June 2021)
The Clay Conference, which is being held for the 8th time since 2002, has established itself as an ideal forum for presenting recent developments in repository design and construction, and the main findings of research - both at the national and international level -  in the context of long term safety assessments. Considering design, construction, operation and post-closure, the Conference provides a unique networking platform for sharing scientific and technological knowledge. This involves gathering together experienced specialists and newcomers from various disciplines related to clays, as well as scientists and technicians from organisations engaged in radioactive waste disposal or in other uses of the subsurface in which clay barriers play an important role.
​Clay Conference 2020 will feature a balanced mix of high-level keynote speeches, concurrent oral sessions and poster presentations, with ample time for informal contacts and lively discussions. It will cover a wide range of topics related to natural argillaceous geological barriers and clay-based engineered barrier systems, including laboratory experiments on clay samples, in situ experiments in underground research laboratories, mock-up demonstrations, natural analogues, numerical modelling, system integration approaches and monitoring.​
The programme will emphasize the work of young research students and young members of organizations involved in radwaste management.
​Clay Conference 2020 is organised by Andra (France), in cooperation with Nagra (Switzerland), COVRA (The Netherlands), NUMO (Japan), NWMO (Canada), ONDRAF/NIRAS (Belgium), PURAM (Hungary), RWM (United Kingdom), SKB (Sweden), SURAO (Czech Republic), US DOE (USA), East China University of Technology (China), BGE/BGR (Deutschland) and Enresa (Spain).